22 September 2022
AUSA is continuing with its activities to fulfil its ambitious strategic global expansion plan. With this goal in mind, the manufacturer of compact all-terrain machines refocused its strategy in Italy, helping it to grow by 25% in 2021 and with forecast growth of between 15% and 20% in 2022, mostly thanks to its new lifting vehicles, the emerging interest in the dumper and its strong network of dealers.

"Although AUSA had its first sales in Italy long ago, it was in 2015 when it refocused its distribution strategy and made a firm commitment to establish a network of high-quality partners who were renowned for providing a great after-sales service and outstanding support to end customers", remarked Mario Torres, AUSA Country Manager. "These changes have now resulted in 10 dealerships across Italy, with the entire territory covered apart from the islands of Sicily and Sardinia, where the brand still has a little scope for expansion in the country. Thanks to the work done in recent years, we are now a well-known brand in the country, where we have achieved sustained growth in turnover in recent years."

The most popular AUSA products in the country are the telescopic handlers and all-terrain forklifts, especially in the agricultural market, for which they are perfectly suited thanks to their compactness and manoeuvrability, as well as their well-known reliability. Additionally, although dumpers are not widely used in Italy, this type of vehicle is arousing more and more interest from the public due to its unique qualities, which work perfectly in tandem with mini-excavators on construction sites. In this category, the D150AHG model with a 1,500 kg payload and D350AHG model with a 3,500 kg payload are achieving the greatest market penetration.

Success story: Officine B

AUSA's significant growth in the country would not be possible without a strong network of dealers. In this regard, one of our most notable partners is Officine B, which is based in Emilia-Romagna and became the AUSA dealer with the highest number of sales in Italy in 2021. Officine B ended last year with a 25% increase in sales of its AUSA products compared to the previous year and it is expecting them to rise by between 15% and 20% in 2022.
AUSA and Officine B joined forces in 2018, at a time when the manufacturer of dumpers, forklifts and telescopic handlers was seeking to strengthen its position in the agricultural market. In turn, Officine B is a company with extensive experience in the sector and it has its own network of partner workshops, thus ensuring that the end customer always has a local after-sales service centre. According to Officine B, AUSA's products are perfectly suited to the agricultural sector, especially the T144H because it is highly compact, versatile and easy to install accessories. This model has become a top seller in the country, where this range of products is gaining ground on mini loaders and telescopic handlers that are larger in size.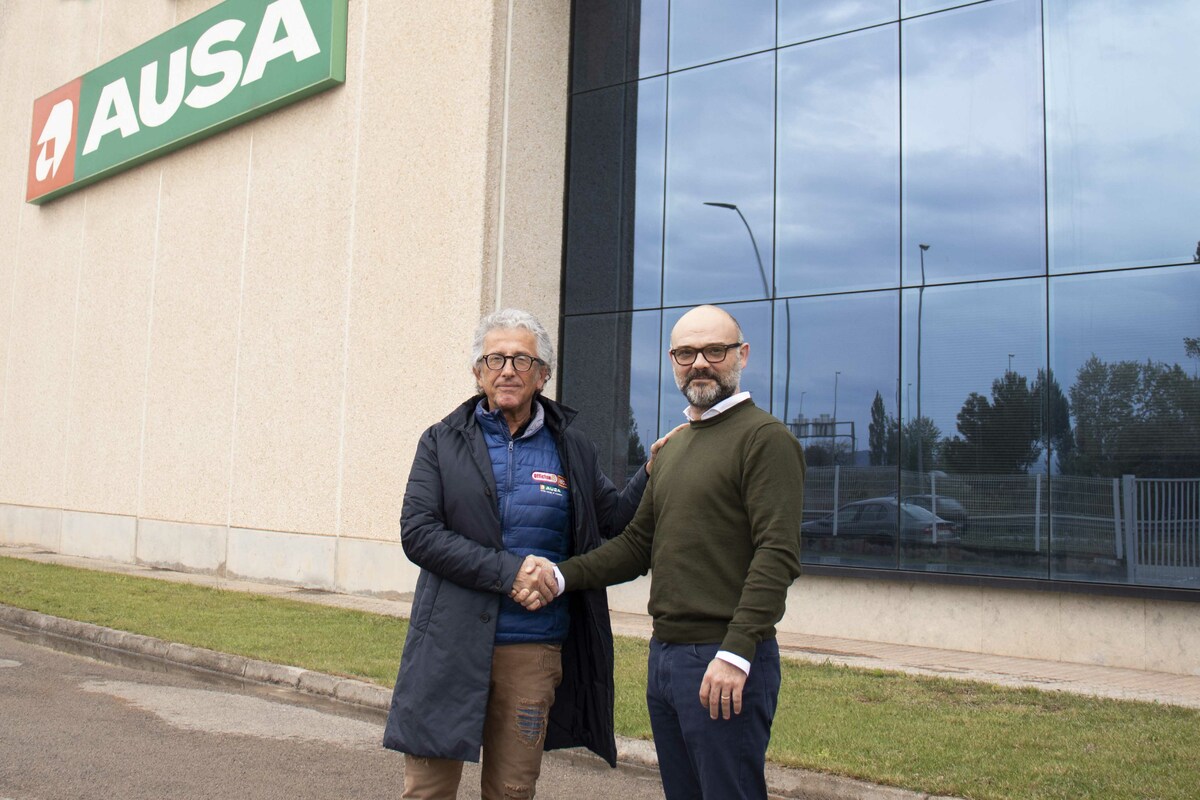 From left to right: Fabio Beltrami (Sales Director of Officine B) and Juan Urkijo (Sales Director of AUSA).

The role of Industry 4.0

The significant rise in sales in the Italian market in recent years is due to the consolidation of the brand in that country, where it is becoming increasingly well-known for its effective and reliable products, and also thanks to the Industry 4.0 digital transformation plan launched by the Italian government in 2020, which seeks to support and encourage businesses to invest in new, interconnected, high-tech capital equipment through a tax incentive scheme. This support allows buyers to subsidise a significant proportion of the prices of their new vehicles.
To join this plan, all AUSA machines can be equipped with AUSAnow, the software used to remotely control machines, which allows you to obtain all real-time information on a computer or mobile telephone. Thanks to this system, the owner or manager can compare historical charts and base their business decisions on analytical data and even use GPS to set alarms.