08 November 2022
AUSA, the manufacturer of compact all-terrain industrial vehicles, was back at Bauma again, the world's largest construction sector trade show, which was held in Munich from 24 to 30 October. During a frantic week in which over 495,000 people attended the event, AUSA showed off its range of electric vehicles for the first time and launched a new brand image that is being applied to all of its machines, enhancing their lines and updating their look.
Exceeding the best forecasts
AUSA was present at Bauma with a large outdoor stand, where it displayed thirteen all-terrain vehicles, most notably the new range of electric vehicles: the D151AEG dumper and the T164E telescopic handler.
"After three years and numerous global incidents since the last edition, we knew that the sector was looking forward to attending this event" remarked Josep Soler, AUSA Country Manager. "During this week we were visited by a large number of customers who were interested in our range of compact machinery, especially the new products with zero emissions. We exceeded our most optimistic forecasts for Bauma, arousing a great deal of interest in everything that AUSA produces and the efficiency, reliability and innovations that our machines are able to offer. We are leaving this year's event very satisfied".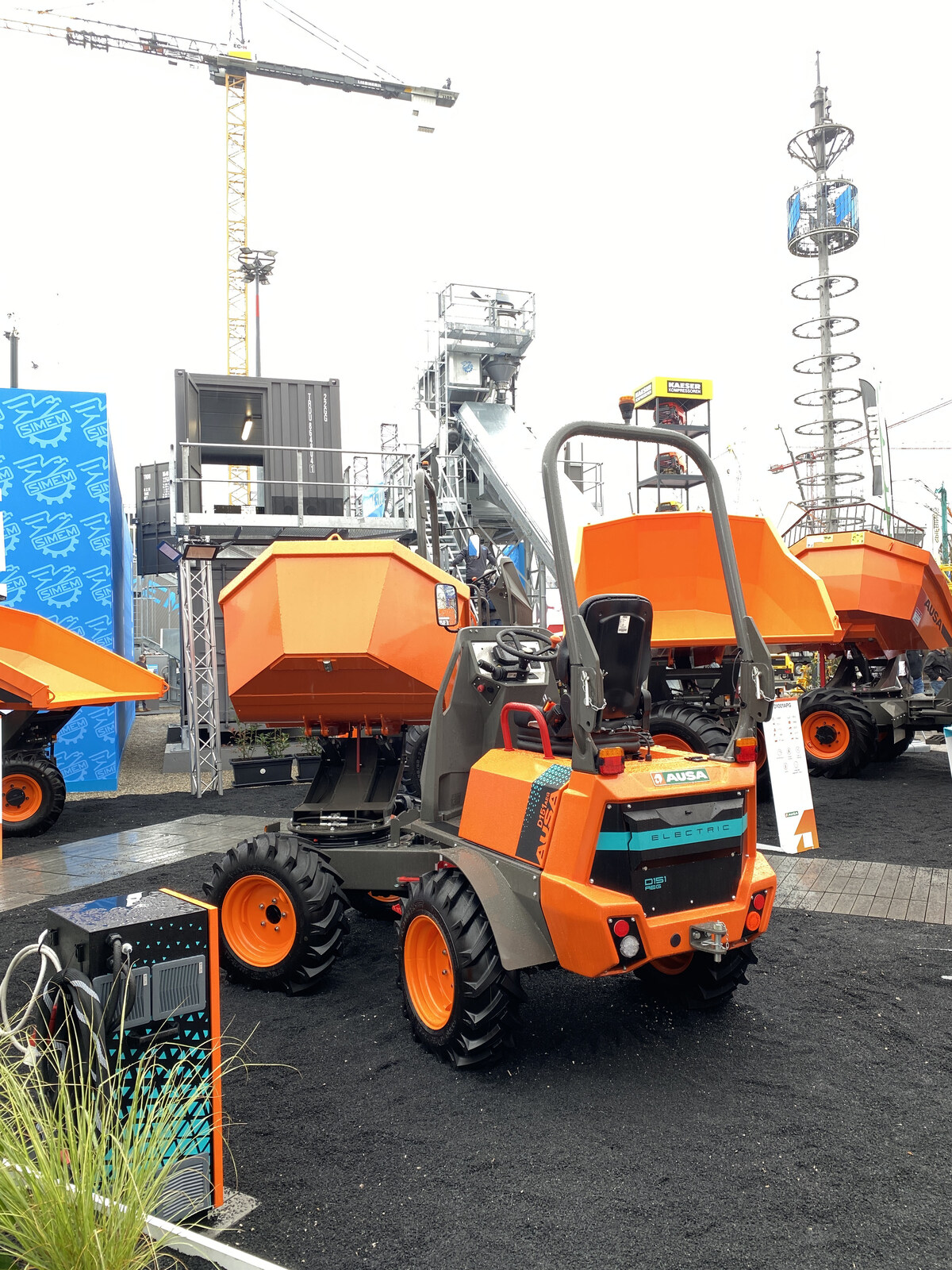 Range of electric vehicles
Following the digital presentation of its new electric models, AUSA displayed them at Bauma as its standout new products. The D151AEG dumper is AUSA's first electric dumper with a 1,500 kg payload. A dumper with compact dimensions that is ideal for working in small spaces where good manoeuvrability is a must. The T164E is the first electric telescopic handler with a 1,600 kg payload on the market. With its all-terrain capabilities and a maximum lifting height of 4 metres, it is ideal for working in emission-free spaces such as greenhouses, enclosed spaces and even working at night, due to its minimal noise emissions.
Both models have been designed with an operating range of at least one full working day. The li-ion battery pack is managed electronically to offer maximum power in a smooth way and all-terrain conditions that match diesel vehicles. Also, when the accelerator is released, the electric motor reduces the speed instantaneously while the energy is regenerated, extending its range.
New branding for machines
With the launch of its new products and the introduction of a new look with more angular lines, in keeping with the latest trends, AUSA came to Bauma with a fully updated image for all of its machines.
The brand's new aesthetic design only uses black to complement the corporate orange, thus reducing the overall visual load and enhancing the angular lines of the dumpers, all-terrain forklifts and telescopic handlers.